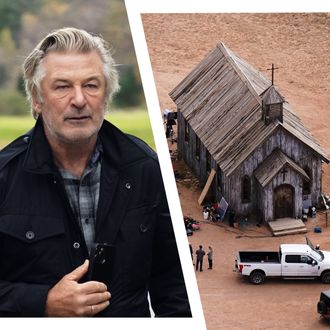 Photo-Illustration: Vulture. Photos: MEGA/GC Images; Jae C Hong/AP/Shutterstock
Alec Baldwin was officially charged with two counts of involuntary manslaughter for an on-set shooting incident that left Rust cinematographer Halyna Hutchins dead. Hannah Gutierrez-Reed, Rust's armorer, was also charged with two counts of involuntary manslaughter; one of the involuntary manslaughter counts they both face has a firearms enhancement, meaning that if convicted of that count, there is a minimum five-year jail sentence. On October 21, 2021, Baldwin "discharged" a prop gun on the Bonanza Creek Ranch set, killing Hutchins and injuring director Joel Souza. Court papers state that Gutierrez-Reed placed three guns on a cart outside where the scene was being filmed and that assistant director David Halls allegedly handed the gun to Baldwin.
The criminal case has raised eyebrows for its uniqueness — not only is a Hollywood star charged with involuntary manslaughter for an on-set accident, but many attorneys are wondering about prosecutors' legal reasoning in pursuing counts against Baldwin that could result in a mandatory five-year minimum sentence for a tragedy that appears, by all counts, to be an accident with far less potential criminality. Neama Rahmani, a former assistant U.S. Attorney and the president of West Coast Trial Lawyers, described the involuntary manslaughter case as "a head-scratcher for a number of reasons." Rahmani feels that the prosecutor, Mary Carmack-Altwies, "overcharged" the case in bringing an involuntary manslaughter count with the firearm enhancement. "That's a very serious charge that tends to be appropriate when someone's playing Russian roulette, for instance."
Let's break down the charges, what's next, and what experts think could happen.
Baldwin's manslaughter case is based on two different concepts of manslaughter. 
Baldwin and Gutierrez-Reed are being charged "in the alternative," so jurors will not only weigh their innocence or guilt; if the jury convicts, panelists will also decide what kind of involuntary manslaughter they committed, which isn't uncommon with murder or manslaughter charges. "I think the prosecution has a tough hill to climb here based on what we know already," said Widge Devaney, a former federal prosecutor in New Jersey who heads Baker McKenzie's North American Government Enforcement practice. While the public doesn't know everything about the investigation, Devaney said, some of the facts that are out there — including that there was an armorer and a prop master in charge of the gun on set and a "cold gun" was declared at the scene — are major hurdles for proving a crime. "Alec Baldwin seemed to have reason to believe the gun wasn't loaded," Devaney explained. "It sounds to me like it's a tough road to prove recklessness beyond a mere accident."
Baldwin, who has maintained his innocence, will only face possible jail time if a jury finds him guilty of involuntary manslaughter. If jurors decide that he's guilty of "involuntary manslaughter," a fourth-degree felony, then the maximum sentence will be 18 months in jail and a $5,000 fine. Things get way worse if jurors decide he's guilty of "involuntary manslaughter in the condition of a lawful act." Because Hutchins's death involved a gun, there's what's called a "firearms enhancement" to the charge, meaning a conviction would result in a mandatory minimum sentence of five years in jail. Any trial would almost certainly be in Santa Fe, and any possible time behind bars would be in New Mexico.
Understandably, everyone involved in the incident is blaming someone else.
Baldwin, who spoke to police right after the shooting, blamed the incident on Gutierrez-Reed and David Halls, the film's assistant director. "Someone put a live bullet in the gun who should have known better," Baldwin told CNN in an August 2022 interview. "That was [Gutierrez-Reed's] job. Her job was to look at the ammunition and put in the dummy round or the blank round, and there wasn't supposed to be any live rounds on the set." Baldwin continued to directly place blame on Gutierrez-Reed and Halls: "There are two people who didn't do what they were supposed to do … I'm not sitting there saying I want them to, you know, go to prison, or I want their lives to be hell. I don't want that, but I want everybody to know that those are the two people that are responsible for what happened."
Halls, whose credits include The Matrix Reloaded, signed a plea agreement for the charge of negligent use of a deadly weapon, prosecutors said on January 19, 2023. He received a suspended sentence and six months' probation. Halls could potentially serve as a witness in any trial against Baldwin and Gutierrez-Reed. Halls's lawyer, Lisa Torraco, previously contended that Baldwin was playing the blame game. "Baldwin is pointing the finger at others because the evidence is pointing at him," Torraco told CNN. "Halls is not responsible. Everyone needs to stop. People are only pointing the finger at Halls because they don't want the responsibility of being wrong. Halls is a scapegoat. People need to look at the evidence."
Gutierrez-Reed's lawyer, meanwhile, previously claimed that she was being scapegoated. "We are convinced that this was sabotage and Hannah is being framed," Variety quoted the attorney, Jason Bowles, as saying. "We believe that the scene was tampered with as well before the police arrived." Bowles and his colleague, Todd J. Bullion, issued a statement following prosecutors' announcement about pending charges. "Hannah is, and has always been, very emotional and sad about this tragic accident. But she did not commit involuntary manslaughter," People reported the statement as saying. "These charges are the result of a very flawed investigation, and an inaccurate understanding of the full facts … We intend to bring the full truth to light and believe Hannah will be exonerated of wrongdoing by a jury."
The charges have spurred legal questions about recklessness, responsibility, and movie-set logistics. 
Rahmani said that people can be charged criminally for accidents, but the severity of these charges reflects their responsibility in the fatal accident. For example, a person might be driving and accidentally hit a pedestrian, resulting in their death. But if they were texting and driving, it would carry more criminal responsibility. And then there's a third possible scenario with still more criminal responsibility: the driver who kills a pedestrian because they knowingly drank or took drugs before getting behind the wheel. One of the counts Baldwin faces, he said, reflects this third scenario. "What she's charging is kind of that third — that really extreme kind of reckless conduct," Rahmani said of Carmack-Altwies. "I don't see it in the case, and I could easily see Baldwin winning this case at trial," as it's such an extreme claim of responsibility. Rahmani said he could understand prosecutors pursuing the less serious involuntary manslaughter count against Baldwin, Halls, and Gutierrez-Reed, but didn't understand why Halls would receive a no-jail plea deal."That's a complete slap on the wrist," Rahmani said. "There's just a huge disparity in the charges."
Tre Lovell, a Los Angeles entertainment attorney, said that Baldwin's team will need to show jurors how film sets are different from other businesses — namely, that a person who seems to be in a management or a leadership role isn't in charge of safety-related things. "The movie set is a much different world than the real world. On the movie set, everybody has their own job description, duties, obligations, and an actor shows up to work on a set that's created by someone else run by somebody else managed by someone else," Lovell said.  Safety is not an actor's "job duty" under on-set labor practices.
"When it comes to the unions, the unions are very particular. If you engage a union actor, you can't have him do any other job on the set. You can't have him doing lighting, gaffing — he's only here to act, that's part of his agreement." And, Lovell said, being a producer (Baldwin was a producer for Rust) doesn't mean that you have responsibility for every little thing. "Producer is a credit — and you can get a producer credit, executive producer, in a lot of different ways," by raising money for a project or negotiating for the title if you're an actor in the project, for example. Meanwhile, in the wake of the shooting, there is also growing support for banning the use of firearms on film sets.
Still, juries are wild cards when it comes to celebrity trials. 
While the prosecution can try to prove Baldwin committed a crime, the fact that he's a celebrity could help him. "Sometimes, prosecutors kind of want to make a name for themselves," Rahmani said. "People think that celebrities get a free pass in the criminal justice system — it's actually the opposite. They tend to get hit a little bit harder." But, he said, "What prosecutors don't appreciate is that jurors love celebrities."
While celebrities do generally "enjoy greater favoritism in the court system, and that boils down to criminal prosecutions as well," Lovell noted that the region might not be as star-friendly as other parts of the U.S. Plus, Baldwin is a little more "controversial," given his outspokenness on politics. "This is going to be in New Mexico — it's not going to be in California or Los Angeles or New York," Lovell said. "It's going to be in a different, rural-type geographic area."