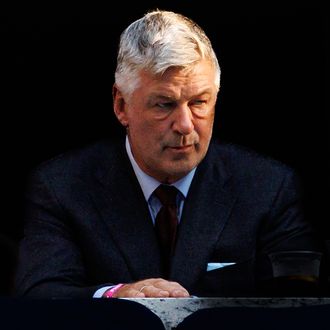 Alec Baldwin.
Photo: Frey/TPN/Getty Images
Alec Baldwin has been formally charged with involuntary manslaughter in the fatal 2021 shooting of Halyna Hutchins, the cinematographer on Baldwin's film Rust. The Santa Fe district attorney filed the felony charges along with similar charges against the film set's armorer, Hannah Gutierrez-Reed, on January 31, New Mexico's First Judicial Court confirmed to Vulture. The charges had previously been announced on January 19 after over a year of investigation. Prosecutors will ask a jury to choose one of two charges for Baldwin and Gutierrez-Reed if they are convicted: one in commission of an unlawful act, and one in commission of a lawful act, with a firearm enhancement. Each count carries a sentence of up to 18 months in prison and a $5,000 fine, but the firearm enhancement would mean a mandatory five-year sentence.
The charges come with lengthy probable-cause statements for each defendant, both of whom have continued to profess their innocence. Baldwin's takes issue with his status as both the actor who fired the gun and a producer on a film set who allegedly cut safety corners. The statement claims Baldwin was not properly trained in using a firearm on set and did not request a proper safety check before using the gun. Prosecutors further claim that, as producer, Baldwin was negligent in hiring Gutierrez-Reed, who was inexperienced as an armorer, and in not holding assistant director David Halls to higher safety standards. (Halls took a plea deal for a misdemeanor negligent use of a deadly weapon charge.) Baldwin's lawyer previously said "he relied on the professionals with whom he worked, who assured him the gun did not have live rounds." But in Baldwin's capacity as producer alone, prosecutors alleged "no less than a dozen acts, or omissions of recklessness" that led to the shooting. "Baldwin's deviation from known standards, practice, and protocol directly caused the fatal death of Hutchins," prosecutors argued in the statement. In Gutierrez-Reed's statement, prosecutors outline a similar flouting of industry-standard protocols, claiming she allowed for the conditions of Baldwin's shooting.
District Attorney Mary Carmack Altwies previously said Baldwin and Gutierrez-Reed would not be arrested after charges were filed. Both are now expected to appear in court for a hearing within 30 days.