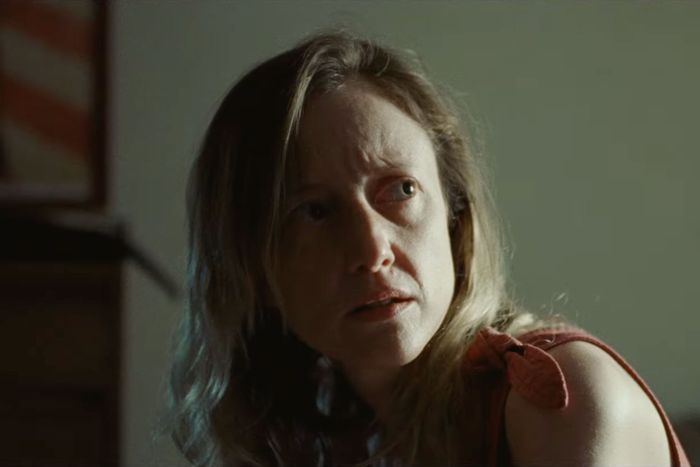 Andrea Riseborough in
To Leslie
, "a small film with a giant heart."
Photo: Momentum Pictures
When the Oscars announced the nominees in their Best Actress category, there was just one name on everyone's lips: Andrea Riseborough!
You may know Riseborough from her work in films such as Mandy or The Death of Stalin, but she is now the season's most surprising Oscar nominee, courtesy of the addiction drama To Leslie, which in mid-January emerged from obscurity to become Sophie's Choice for people whose children went to Crossroads. Almost every big name in Hollywood spent the Oscar nominations' voting window posting in support of Riseborough's long-shot Best Actress bid, and 33 percent of the cast of Friends hosted industry screenings in support of the film. A low-budget film about an alcoholic former lottery winner, To Leslie was well reviewed out of its SXSW premiere, but it had been passed over by awards pundits owing to its barely-there release as well as the fact that dozens of similar films play festival lineups each year — half of them also starring Andrea Riseborough. Now, a movie that hardly anyone had heard of, and even fewer have seen, has run through an entire Oscars narrative in the span of a few weeks, from hype to backlash to reclamation, and ultimately, to the least-likely acting nomination of the decade. How did this happen — and why?
The two most popular conspiracy theories have holes. That both Riseborough and many of her loudest supporters were repped by CAA has led to rumors of an agency plot, but one of the contenders she bumped out, The Woman King's Viola Davis, is a CAA client, too. As for the rumors that studio payola must be involved, as IndieWire notes, "if there's one thing this movie doesn't have, it's money." To Leslie was released by Momentum Pictures, a Hasbro-owned indie shingle whose previous closest brush with Oscar buzz was the widely scorned Xavier Dolan film The Death & Life of John F. Donovan. '90s Miramax it is not. According to Vanity Fair's Little Gold Men podcast, whatever costs the campaign did incur — the cost of screening space, say — were being paid by Riseborough herself.
The real answer is seemingly a combination of three different factors. The first: good old-fashioned favor-trading. To Leslie director Michael Morris is a TV veteran who has helmed episodes of Smash, Bloodline, and Better Call Saul. His wife is the actress Mary McCormack, who was part of the West Wing universe alongside Allison Janney (who has a small role in To Leslie) and many of the actors who have come out in support of the film. Puck's Matthew Belloni suggests that Riseborough's "well-connected" manager, Jason Weinberg, might have played a role as well. It appears that the movie's team lit up its Rolodexes to tout To Leslie as a labor of love in need of a lifeline — perhaps with some suggested socials text included — and the scheme simply worked better than anyone could have anticipated.
As for why it worked, we come to the second factor: Riseborough herself. As a Texas lowlife struggling to get her life together, she has given plenty of awards-friendly beats to play in To Leslie, and her famous fans have commended her for avoiding the common pitfalls of such performances. For much of her career, the English actress's roles have either been too small (Battle of the Sexes) or too out there (Possessor) to earn much awards traction. "She's a beloved actor who doesn't follow heat, and her friends are rallying behind her," an industry friend told me. To the A-listers lining up to sing her praises, her career may seem like an idealized vision of a path not taken: less remunerative, with fewer magazine covers, but also armed with the confidence to eschew franchise fare in favor of projects that are all about the work, man.
Finally, the third factor is a simple human desire to support an underdog. Here, the fact that most people had never heard of To Leslie is not a hindrance to the social-media campaign but a benefit. Had the film received a glitzy Venice premiere and been touted in Oscar predictions throughout the fall, where would the fun be in supporting it?
Now that she's an Oscar nominee, Riseborough will have heavy competition for the trophy, but she's already a winner in the hearts of awards obsessives. Let's celebrate her for setting her own kind of Oscars record — for the shortest awards campaign in history (roughly seven days from start to finish). Here, a detailed timeline of Riseborough's extraordinarily late-breaking Best Actress bid.
Part One: Obscurity
March 12, 2022
To Leslie makes its world premiere at SXSW. Reviews are mildly positive with the highest praise reserved for its central performance. "The movie belongs to Riseborough, who in the second half comes alive, scene by scene, like a flower slowly uncrumpling," says Owen Gleiberman.
October 7, 2022
To Leslie opens in limited release and VOD. The New York Times publishes a five-paragraph review calling it a "deceptively simple yet heart-wrenching character study." The film will eventually earn a 98 percent "fresh" rating on Rotten Tomatoes.
October 25, 2022
Riseborough is snubbed in the Outstanding Lead Performance category at the Gotham Awards, which aims to spotlight low-budget and independent cinema.
November 11, 2022
Charlize Theron hosts a screening of To Leslie because Morris put in a call, as IndieWire later reveals. At the event, Theron calls the movie "one of those film experiences that are becoming extinct, unfortunately."
November 22, 2022
Riseborough earns her first precursor attention: She's nominated for an Independent Spirit Award in the gender-neutral Best Lead Performance category.
December 8, 2022
The National Board of Review names To Leslie one of its top-ten independent films of the year, an honor slightly overshadowed by the group giving Best Picture to Top Gun: Maverick.
December 12, 2022
Riseborough is snubbed in the Best Actress in a Motion Picture — Drama category during the Golden Globe nominations.
December 14, 2022
Riseborough is snubbed in the Best Actress category at the Critics Choice Awards nominations.
December 16, 2022
Riseborough earns her second precursor attention when the Chicago Film Critics Association nominates her for Best Actress.
Part Two: Growing Recognition
January 10, 2023
Morris's friend Gwyneth Paltrow hosts a screening and posts about the movie on her Instagram grid. She calls the film "a masterpiece" and says Riseborough "should win every award there is and all the ones that haven't been invented yet." The same day, Edward Norton publishes a Twitter thread hailing Riseborough's performance as "the most fully committed, emotionally deep … physically harrowing performance I've seen in a while." This is the unofficial start of the campaign.
January 11, 2023
Riseborough is snubbed in the Best Actress category at the SAG Awards nominations.
January 12, 2023
Oscar-nomination voting begins. The Hollywood Reporter takes notice of the star-led social-media campaign for the film, which has grown to include Susan Sarandon, Helen Hunt, Zooey Deschanel, Melanie Lynskey, Mira Sorvino, Constance Zimmer, Rosie O'Donnell, Minnie Driver, Alan Cumming, Daphne Zuniga, Tan France, Jenny McCarthy, Frances Fisher, Rosanna Arquette, Debra Winger, Patricia Clarkson, and Howard Stern. The trade interviews Morris and many of the movie's famous fans. "I was just struck by its authenticity," Sarah Paulson says.
The same day, Riseborough does her only major bit of press, guesting on her To Leslie co-star Marc Maron's podcast, WTF. On it, she speaks of her love of the Christopher Guest film For Your Consideration: "Just the sniff of a fart of some sort of nomination … everybody loses their minds, their faces, any connection to reality."
January 13, 2023
The Twitter account @FilmUpdates begins keeping track of the celebrities who have lent their support to the film. Besides those previously mentioned, the list eventually includes Jennifer Aniston, Courteney Cox, Demi Moore, Jamie Lee Curtis, Bradley Whitford, Jane Fonda, Dulé Hill, Michelle Monaghan, Laura Dern, Greg Kinnear, Kate Winslet, Kim Basinger, and Amy Adams.
January 14, 2023
A redditor collects a series of posts from celebrities in support of To Leslie, all of them calling it "a small film with a giant heart." The phrase soon goes viral on Film Twitter. A Reddit commenter speculates, "I am almost certain Riseborough has a Hollywood orgy videotaped and she's using it to blackmail everyone."
January 15, 2023
Accepting her Critics Choice Award for Best Actress, Cate Blanchett includes Riseborough in her list of actresses who deserve the trophy.
Part Three: Backlash
January 15, 2023
The first grumbles from internet commenters begin to gain traction around the prospect of a mostly white bunch of celebrities bumping Riseborough into the Oscar lineup at the possible expense of Black contenders like The Woman King's Davis or Till's Danielle Deadwyler. "What really has ticked me off about this is you never see this push for WOC/POC actors," says one observer.
Part Four: Acceptance
January 15, 2023
The backlash to the backlash begins. "Be cynical if you like, but Andrea Riseborough is really fucking good in To Leslie and if an aggressive friends-of-friends campaign nets her a Best Actress nomination over certain drearier big-name options, I'm all for it," says critic Guy Lodge.
January 17, 2023
Oscar voting closes. Though Riseborough has risen to eighth place in GoldDerby's Best Actress rankings, Variety's Clayton Davis predicts that her late surge will not affect the Best Actress race: In his conversations with AMPAS voters, there was "only one mention of her film … and it wasn't even an acting branch member." Anecdotal evidence suggests that film fans are starting to rent To Leslie and discovering it is indeed a small film with a giant heart.
Part Five: Shitstorm
January 24, 2023
Against all odds, Riseborough does indeed receive her first career Oscar nomination for To Leslie. "Jason Weinberg is the best manager in the US of A.," says Jeremy O. Harris. "This man did a group chat Oscar campaign for a client he has seen work her ass off for years with little to [no] recognition who gave a daring performance in a small picture and it worked. This should be studied."
January 27, 2023
Amid a social-media firestorm over Riseborough scoring a nomination over Viola Davis and Danielle Deadwyler, the Academy announces it will investigate the To Leslie campaign, without ever saying the film's name. Seemingly at issue are whether Mary McCormack violated a rule prohibiting campaigns from "lobbying" Academy members, and whether vocal supporter Frances Fisher (whose affiliation with the campaign is unclear) broke another rule against mentioning the competition by name.
January 31, 2023
Per Belloni, Academy CEO Bill Kramer issues a statement on the results of the investigation. Kramer says that while the Academy will not be rescinding Riseborough's nomination, the organization uncovered tactics that "raised concern," and is "addressing these concerns directly with the responsible parties." He pledges to clarify the Oscar rules "to help create a better framework for respectful, inclusive, and unbiased campaigning."
This post was originally published prior to the 2023 Oscar nominations. It has been updated throughout.