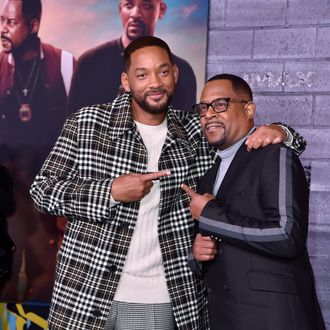 Bad Grown Men just doesn't sound the same.
Photo: Axelle/Bauer-Griffin/FilmMagic
When an Oscar nomination is out of the question (maybe due to the fact that you slapped someone at the Oscars), there's only one place to go … straight to the bank! Will Smith is ready to make it the '90s again, either through science or magic. Or just by releasing another film in the Bad Boys franchise. Reuniting Smith with fellow bad boy Martin Lawrence, the movie will be the fourth in the franchise, following 1995's Bad Boys, 2003's Bad Boys II, and 2020's Bad Boys for Life. Although the first two were directed by Michael Bay, the yet untitled fourth Bad Boys will be directed by Bilall Fallah and Adil El Arbi, known for released content like BBFL and episodes of Ms. Marvel, as well as the famously unreleased movie Batgirl. While we're excited that Smith and Lawrence are coming back for this fourthquel, we'd like to note that we are much more interested in learning whether Vanessa Hudgens will reprise her role from the previous film. If not, she can always play a different character with the same face; she's quite adept at that.