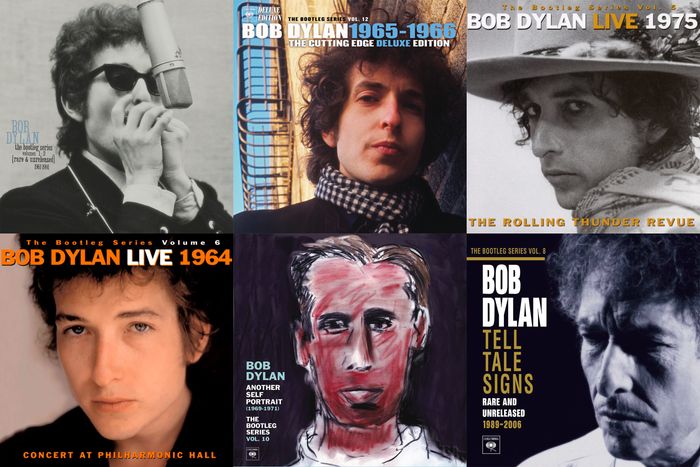 Bob Dylan, bootlegger.
Photo-Illustration: Vulture. Photos: Columbia Records and Legacy Records
Writing about Bob Dylan is like writing about Mount Rushmore. How do you add insight to something that is carved into America's landscape? How can you find a new angle on a mountain? Why bother, too? Mountains don't care about interpretations.
Of course, that hasn't stopped Dylanologists, a passionate group of Dylan scholars who spend time unearthing new truths from the singer-songwriter's six-decade-old catalogue. It's an intellectual fandom that dates back to the '60s and has the vigor and determination of all those teenagers screaming for the Beatles; a pre- and post-internet "run me over with a truck" approach to musical worship. It's academic. It's overkill. It's "the thinking man's philately," according to a 1991 Robert Christgau review cheekily confirming how Dylanology became an entire industry.
Christgau was reviewing a notable new box set: The Bootleg Series Volumes 1–3 (Rare & Unreleased) 1961–1991. The project was Dylanology physically incarnated, featuring 58 rare and unreleased demos, live recordings, and session outtakes from Dylan's self-titled debut until the then-recent 1989 quasi comeback Oh Mercy. It also could have been a one-off. The bootleg series has instead grown into a massive, strange, and lucrative treasure trove that now stands at 17 volumes and counting (including the newest entry, from Dylan's Time Out of Mind era, out now). Much of this long-running project is more fascinating than good. As an artist who never had too many traditional hits — his first No. 1 was 2020's "Murder Most Foul" on Billboard's Rock Digital Song Sales chart — these bootlegs are deep dives into songs that provide windows into the mind of a great artist.
But with nearly two dozen releases and more than 500 tracks (not even including all the deluxe editions) in the mix, where do you start? In honor of the latest bootleg entry, let's explore by breaking down the series' highlights, lowlights, and oddities — a Dylan Bootleg CliffsNotes, if you will. Todd Haynes's 2007 film I'm Not There got it right when it examined Dylan through several clashing personalities. The same approach makes sense here.
Guthrie Dylan
The big bang, for Dylan himself and the bootleg series. Though Volumes 1–3 were released as one package, Volume 1 and Volume 2 — and eventually Volume 9 — cover the earliest years of Dylan's career. Fresh to New York from Minnesota in the early '60s, this was the time when the songwriter was praised for being the folk revival's most compelling Woody Guthrie mimic. We would still remember him today if he quit right after The Times They Are A-Changin'; all these bootlegs offer plenty of guesses at what kind of folk musician he could have been if he never picked up his electric guitar again. For many fans, this is still their preferred Dylan.
The Bootleg Series Volume 1 (1991)
The very first entry of the bootleg series was a celebration. It was also practical. Unreleased Dylan projects have always been a legendary commodity; some Dylanologists argue that 1969's Great White Wonder invented the modern-rock bootleg. This box set was Columbia's attempt to legitimize and circulate them. Unlike its previous bootleg release, 1973's Dylan, this one was more thoughtful. The attention to detail is clear in Volume 1, which goes up until 1964's The Times They Are A-Changin'. Save for takes of "Talkin' John Birch Paranoid Blues" and "Talkin' Bear Mountain Picnic Massacre Blues" — Dylan's droll "yippee" that foreshadows the world's worst picnic always makes me laugh — Volume 1 keeps him in the serious Guthrie mold, like the incredible "Let Me Die in My Footsteps" that was set to appear on 1963's The Freewheelin' Bob Dylan before being replaced by "A Hard Rain's a-Gonna Fall." For newcomers, the Freewheelin' demos are wonderful. But the rest feels like homework, too self-conscious and in love with Guthrie's Bound for Glory and Harry Smith's Anthology of American Folk Music. Dylan's too-long "Last Thoughts on Woody Guthrie" poem is a reminder that he was always best playing with the sound of words than just being a wordsmith.
The Bootleg Series Volume 2 (1991)
Volume 2 captures A-Changin' until 1975's Blood on the Tracks. This may be Dylan's most agreed-upon creative peak. It's also his first valley, otherwise known as the "What is this shit?" era. Future bootlegs will redeem Dylan and clarify how and why the same artist went from "Like a Rolling Stone" to "Nobody 'Cept You." The debuts of the country-fried "Wallflower" and the lost Blonde on Blonde gem "She's Your Lover Now" still sound great. Volume 2 is a mostly folk and acoustic affair and a hodgepodge of alternative takes of Dylan's more traditional songs. The point seems to reinforce what fans already believed in 1991: '60s Dylan was great, '70s Dylan was hit-or-miss.
The Bootleg Series Vol. 9: The Witmark Demos: 1962–1964 (2010)
In the early '60s, Albert Grossman, Dylan's manager and a favorite villain among the folk revivalists, signed his new client to an agreement with publisher M. Witmark & Sons to record demos in the Tin Pan Alley mold. Volume 9 collects these demos, the sound of Dylan playing the music-industry game. It's also the product of an eager young songwriter without the baggage of fame. Most tracks on Volume 9 are already known, so the pleasure is hearing future classics in rough shape. Dylan screws up a verse on "Man on the Street." "The Times They Are A-Changin'" feels wobbly on the piano. "Masters of War" is played on an out-of-tune guitar. There are other silly mistakes and fitful stops that don't appear on most other volumes. Then there's "Tomorrow Is a Long Time," a strange and pretty blend of folk and blues unlike anything else Dylan has recorded. The supposed voice of a generation was writing genre-blending Blood on the Track–worthy personal laments from the beginning, with mature lyrics that make it the rare early song that 2023 Dylan would still write. Volume 9 captures the brief yet vital moment just before he graduated from the Guthrie school of music and started to carve his own path. Dylan would never again sound this unsure and unremarkable.
Prophet Dylan
This is it. The Bob Dylan behind (at least until 2021) the greatest song of all time. The Dylan whose albums destroyed folk music and saved popular music. The Dylan who fans believed was a literal prophet soundtracking the end of the world and the future of pop music, often at the same time. The Dylan whom Cate Blanchett and John C. Reilly channeled in I'm Not There and Walk Hard, respectively. (The two actors' different approaches are important. Blanchett complements the "Shakespeare on amphetamines" madness of an artist moving at the speed of speed; Reilly pokes at the silliness of taking Dylan at face value.)
The Bootleg Series Vol. 4: Bob Dylan Live 1966, The "Royal Albert Hall" Concert (1998)
Volume 4 might be the most famous volume, featuring Dylan's most famous concert. Yes, this is the gig where some doofus very loudly yelled "Judas!" at Dylan for turning his back on protest folk for electric rock 'n' roll (most of the audience cheered for the doofus). Dylan responded in kind, telling his band to kick off "Like a Rolling Stone" and "Play … fuckin' … loud." Disc one is a solo acoustic set tethering the sublime (a ghostly and epic "Desolation Row") and silly ("Royal Jelly"). Listening to disc two's electric set with fresh ears, it's stunning to hear how tight everyone sounds. The crowd-as-mob myth is harder to believe; the "Judas!" exchange sounds more silly than potent. This is not Stravinsky debuting The Rite of Spring, or the world-splitting chaos depicted in I'm Not There, but it's still a great gig.
The Bootleg Series Vol. 6: Bob Dylan Live 1964, Concert at Philharmonic Hall (2004)
"Royal Jelly" energy continues in Volume 6, capturing Dylan's 1964 Philharmonic Hall Halloween show. There's no "Judas!" or definitive live version of any songs. (NME's review: "Young man sings good songs in big hall. Ladies swoon.") But the difference two years make is shocking. 1964 Dylan is still all acoustic, still duetting with Joan Baez, and still giggling through his protest songs. It's peak folk Dylan. The audience probably realized this, too; you can hear their self-satisfying laughs in awe of "Talkin' John Birch Paranoid Blues." This is the Dylan most in sync with the Zeitgeist and most comfortable in its glow.
The Bootleg Series Vol. 12: The Cutting Edge 1965–1966 (2015)
Volume 12 gets Dylan away from the spotlight and into the studio during the 14 months of sessions that gave us Bringing It All Back Home, Highway 61 Revisited, and Blonde on Blonde. The man was busy. He also recorded live; this is a practical showcase for how many versions of songs existed simply out of necessity. ("I don't think I knew you could do an overdub until 1978," said Dylan in a 1985 interview.) One entire disc includes only takes of "Like a Rolling Stone." Yes, it's a blast. This is the entry that most justifies its size, a gift from an era beloved by Dylanologists and casual fans.
Scorsese Dylan
This is a subcategory of Prophet Dylan. While the previous grouping of bootlegs further cemented the popular myth of Dylan, Volume 5 and Volume 7, released only a few years apart in the early aughts, are more interesting as visual snapshots. These are meant to be seen. One marks Dylan's peak as most of us know him — it's a blast watching Dylan piss off Newport Folk Festival in 1965 with an electric and chaotic "Maggie's Farm" and then see the audience's mix of bewilderment and frustration — while the other marks his shift into a restless touring machine more interested in reinventing his catalogue in the vein of the American songbook. The latter continues to this day. More specifically, both have connections to Martin Scorsese. These are the two entries in which you could say, "You had to be there."
The Bootleg Series Vol. 7: No Direction Home: The Soundtrack (2005)
Volume 7 is the soundtrack to Scorsese's 2005 documentary No Direction Home, which is essentially Scorsese creating his own Volume 1–2. The soundtrack is enjoyable — "Song to Woody" and "When the Ship Comes In" are nice to have — but it's more fun to watch Dylan play "Like a Rolling Stone" while staring down his audience. There's also a minor yet revealing mythmaking detail. On Spotify, Volume 4's "Ballad of a Thin Man" into "Like a Rolling Stone" cuts out "Judas!" On No Direction Home, it's impossible to miss.
The Bootleg Series Vol. 5: Bob Dylan Live 1975, The Rolling Thunder Revue (2002)
Volume 5 might be strange to newcomers. This was the official introduction to the Rolling Thunder Revue, the fabled 1975-76 tour in which Dylan toured the East Coast as what was essentially a traveling circus. Hearing the opening "Tonight, I'll Be Staying Here With You," it's striking how much more forceful Dylan wields his voice, conveying less through words and more through delivery. Scorsese would also reevaluate this era with a Netflix "documentary" that accompanied a massive reissue. Scorsese tackling Rolling Thunder makes sense: The appeal of this tour was participating in these rambly shows to see Dylan in carnival makeup, something the bootlegs on their own can't convey.
Huckleberry Dylan
By No Direction Home, it seemed that the series had gotten the most-requested bootlegs out of the way. Now it could go deeper into Dylan's lesser-known (or lesser-loved) eras to paint a fuller portrait of an artist whose official output often clashed with the man in the studio. This is Dylan slowing down, collaborating, and writing more earthy songs, like a master pulling the American songbook out of the Mississippi River and rediscovering the music of his youth. The results are mostly excellent.
The Bootleg Series Vol. 8: Tell Tale Signs: Rare and Unreleased 1989–2006 (2008)
Volume 8 is the Daniel Lanois era. The U2 producer helped Dylan with Oh Mercy and 1997's Time Out of Mind, the two albums most represented on this bootleg. Here, they feel fresh again. The one-two opening punch sums it up. "Mississippi" and "Most of the Time" are stripped of Lanois's swampy layering to sound like long-lost American standards. 2006's Modern Times also shines, with "Someday Baby" now sounding like an ethereal blues, as if Dylan and Bono looked at the same Joshua Tree.
The Bootleg Series Vol. 11: The Basement Tapes Complete (2014)
Volume 11 captures the most bootlegged Dylan: The Basement Tapes, recorded in 1967 with the Band at the Big Pink house near Woodstock, where Dylan was recovering from his motorcycle accident. These sessions gave us the earliest versions of future classics "I Shall Be Released," "This Wheel's on Fire," and "Tears of Rage," which would be recorded for the Band's debut album the following year, titled in honor of the home where The Basement Tapes was recorded. There's so much lore and breath associated with these sessions that one track gives the Todd Haynes film its title. The Basement Tapes was partially released in 1975 and then fully released with this entry. For newcomers, the obsessiveness for this era might make this the series' Pepe Silvia. Unless you're dying to have a high-quality version of "You Ain't Goin' Nowhere (Take 1)" with new lyrics about feeding cats, it might be best to start with the condensed Basement Tapes Raw. Or just listen to the Band.
The Bootleg Series Vol. 15: Travelin' Thru, 1967–1969 (2019)
Dylan's brief Nashville stops à la John Wesley Harding and Nashville Skyline get their own spotlight in Volume 15. In what feels like the shortest entry, the takeaway is that Dylan spent most of his post–motorcycle accident recovery hanging with Johnny Cash and forgetting the lyrics to "Girl From the North County," like what we hear in this bootleg's "Rehearsal" version. These sessions were so short and focused that we don't have the luxury of getting lost in 15 different versions of "Country Pie." Dylan's country voice still takes some getting used to, too. Dylan sounds happy, at least, even if this era feels inconsequential beyond some good Americana.
The Bootleg Series Vol. 17: Fragments — The Time Out of Mind Sessions (1996–1997) (2023)
Huckleberry Dylan includes this year's latest bootleg entry. The biggest draw is the first disc: an official album "remix." Similar to Dylan's New York Sessions for Blood on the Tracks (more on that in a second), there seemed to be two competing albums: Lanois's swamp version that eventually won, and Dylan's preferred stripped-down approach. Volume 17 implies that this remix may have been the final album if Dylan had his way. Some will prefer the new mix, and some (like me) will appreciate more the weirdness of Lanois's original sound. As Steven Hyden details in his liner notes, both albums can now coexist — the cryptic original that fits into Dylan lore as a legacy artist acting his age, and now the version Dylan actually wrote.
Blood on the Tracks Dylan
Blood on the Tracks is the easiest Dylan album to love. It's also one of the few studio albums with enough mystery and backstory that it justifies its own spotlight. The bootleg series thought so, too.
More Blood, More Tracks: The Bootleg Series, Vol. 14, released in 2018, focuses on only one year and two sessions: September 1974 in New York and December in Minnesota. The oft-told legend is that, at the last minute, Dylan disregarded the mostly acoustic and somber four-day NYC sessions (known among fans simply as "The New York Sessions"), and reworked half the album to be livelier, with a full band back in his home state. Recorded while his first marriage was reaching its end, the Blood on the Tracks most of us know is a compromise between the two: one half-lost in thought, one yearning amongst a crowd.
Though the full acoustic tracks have been bootlegged for years, and Volumes 1–3 included a few notable songs from these sessions, Volume 14 still fills in some gaps. "Up to Me," another "What if!" song famous for being good enough to be on the album, gets an official release, though today it sounds too close to "Shelter From the Storm" to stand out. "Idiot Wind" sounds powerful no matter the version, with Dylan playing in the bright glow of open-E tuning that balances the lyrics: a man trying to appease a breaking heart and realizing there's nothing he can do to stop it. "Lily, Rosemary and the Jack of Hearts," a weird outlier on the original release that felt like it couldn't read the room, feels much more at home with just Dylan and his guitar.
There is a vocal sector of Dylanologists who believe that the New York Sessions outrank all the Minnesota recordings. For newcomers, the idea that there's a better take on Dylan's best album is a fun discovery. Your favorite Blood on the Tracks is really up to you.
"I Told You So" Dylan
This era holds Dylan's "worst" albums, all shown in a new light throughout these volumes in attempted reevaluation. "Bob Dylan was always brilliant and we're the ones still catching up to what he's been trying to tell us all along," these bootlegs seem to scream. It's true that time has been mostly kind to this era. But do these bootlegs teach us anything new? The results are mixed.
The Bootleg Series Volume 3 (1991)
Volume 3 doesn't try to argue for Dylan's genius during this time. This entry focuses on Shot of Love and Infidels, two albums few would consider favorites. Still, "Golden Loom" is an enjoyable hang for those not into the gypsy folk of Desire, as well as the "Every Grain of Sand" demo from Dylan's Christian period. Some tracks that first appear here are now Dylan standards, like "Blind Willie McTell." But overall, as packaged with Volume 1–2, Volume 3 now feels like an afterthought.
The Bootleg Series Vol. 10: Another Self Portrait (1969–1971) (2013)
Volume 10 is the example that works. The albums that have benefited the most from the series are Dylan's two 1970 projects: Self Portrait and New Morning. The former is hard to get through today even with context. New Morning was well received at the time — the later use of "The Man in Me" on the Big Lebowski soundtrack didn't hurt — but now feels like another "Dylan's back!" LP that followed his frequent droughts. Volume 10 argues, however, that the sessions around these albums were incredible. The clarity of Dylan's voice in stripped-down takes on "Spanish Is the Loving Tongue" and "Only a Hobo" shocks me still.
The Bootleg Series Vol. 13: Trouble No More 1979–1981 (2017)
Volume 13 covers Dylan's born-again Christian trilogy of Slow Train Coming, Saved, and Shot of Love. These albums, especially Slow Train, have always been underrated musically. The lyrics, Evangelical and heavy-handed, did have a vivid sense of dread hinting that the Jewish-born Dylan was still an Old Testament guy. And there's the irony of the fans who embraced his electric pivot now hating his gospel jams. This collection of mostly live recordings reinforces how polarizing the era remains. These are the best versions of an expensive-sounding band backing Dylan on his least-beloved songs. There is one fun revelation: Even though the War on Drugs name-checked "Desolation Row" on their last album, Volume 13 captures the jammy dad-rock Dylan era that sounds like the indie-rock generation most indebted to him and the Grateful Dead.
Springtime in New York: The Bootleg Series, Vol. 16, 1980–1985 (2021)
For those discovering '80s Dylan through the YouTube clip of his 1984 Letterman performance, I hate to say it: This is as compelling as early-'80s Dylan gets. Even with contrarian nostalgia, this era — Shot of Love, Infidels, and Empire Burlesque — feels like the least coherent or necessary. Volume 16 doesn't disagree. The alternative version of "Neighborhood Bully" is fun and sounds identical to the official. There are strong Born in the USA vibes on the "Price of Love" outtake that would have killed onstage but miss the nuance of stronger lyrics. There's nothing here outright bad. Volume 16 just doesn't add much; the "I told you so" is literal.
This is technically the first Dylan bootleg album with unofficially released tracks from 1967's The Basement Tapes, songs recorded in a Minnesota hotel room in 1961, and a spatting of outtakes. The title is a reference to the original pressing's white cover. Dylan was an outtakes album including covers and traditionals from the Self Portrait and New Morning sessions. 1985's Biograph box set does a better job with its pick of unreleased tracks, though that includes a mix of singles and fan favorites and not just bootlegs.