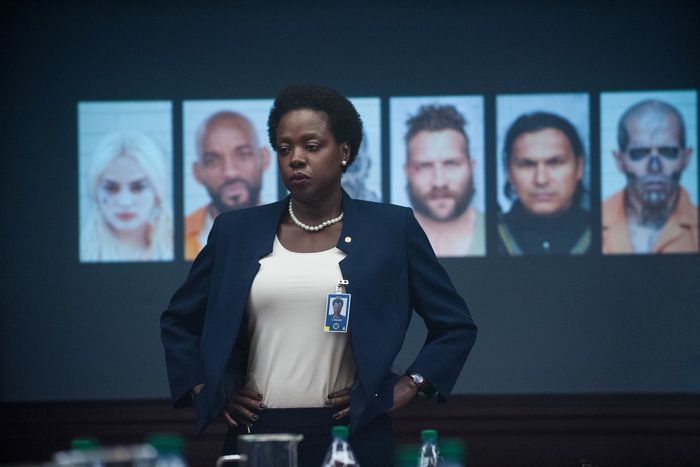 Photo: Clay Enos/Warner Bros.
If there's anything everyone at Warner Bros. Discovery wants to get desperately right, it's the DC Universe. Since director James Gunn and producer Peter Safran were named the co-CEOs and chairmen of DC Studios last October, fans and DC naysayers alike were wondering if the connected universe (formerly known as the DC Extended Universe) could finally get its act together. At an exclusive press conference held at the Warner Bros. lot on January 30, Gunn and Safran finally acknowledged the elephant in the room. Gunn addressed past attempts at interconnectivity, saying "the history of DC is pretty messed up, it was fucked up," and finally announced a supposedly cohesive "eight-to-ten-year" plan from Gunn, Safran and their team of writers Drew Goddard, Jeremy Slater, Christina Hobson, Christal Henry, and comics writer Tom King. The slate of movies and television are part of the officially named "Chapter 1: Gods and Monsters."
Today, as the news of "Chapter 1" broke, Gunn released a video on Twitter addressing the future of the DC Universe. Within the next year, DC is expected to release Shazam: Fury of the Gods, The Flash ("A fantastic movie that I really love that resets the entire DC Universe"), Blue Beetle, and, finally, Aquaman and the Lost Kingdom ("Which leads directly into our next few projects."). As part of the conference, Variety reports Gunn saying Gal Gadot, Jason Momoa, Ezra Miller, and Zachary Levi may have the opportunity to continue playing their respective heroes. That tidbit only adds confusion to the DC Universe's proposed reset, though one thing is for sure: Henry Cavill will not return as Superman.
Meanwhile, Matt Reeves's Batman – Part II, starring Robert Pattinson, is still on track and is set to release on October 3, 2025, the same year as Gunn's Superman film. Todd Phillips's Joker: Folie à Deux, starring Joaquin Phoenix and Lady Gaga, is also still a go. Gunn explained that the Reeves's and Phillips's films will continue as they please under a new label, separate from the DC Universe, named "DC Elseworlds."
After Aquaman and the Lost Kingdom, DC Universe will kick into its first official chapter with Creature Commandos and Waller. Safran calls the two TV series an "aperitif" to "Chapter One: Gods and Monsters." The rest of the titles below are what Gunn stresses is just "part of the first chapter, it's not the entire first chapter." Good! Because he forgot to mention a sequel to Birds of Prey, hmph.
Creature Commandos
An animated series written by Gunn, Creature Commandos is one of the first projects green-lit by the co-heads of DC and will likely be one of the first new offerings we see from Chapter 1, as it's currently in production. There is no voice cast attached yet, but Gunn made a point to say they will cast actors that can voice the animated character and play a live-action portrayal when the characters cross over to different projects.
Waller
Honestly, a huge congrats to Viola Davis for seemingly being the only consistent DCEU actor to maneuver through the various studio-head changes and universe revamps unscathed. It's about time she gets her own series (and hopefully a bigger check). Waller is being positioned as a spinoff of Gunn's series Peacemaker, in which Amanda Waller sent the titular hero (John Cena) off on missions with her daughter Leota (Danielle Brooks). The series does not have a release date yet but does have a creative team of Christal Henry (of Watchmen) and Jeremy Carver (creator of Doom Patrol).
Superman: Legacy
"The true beginning of the DCU." In taking over DC Studios, Gunn has been adamant about Superman being their No. 1 priority, and that has come to fruition as its the only title on this list that has an official release date: July 11, 2025.
Lanterns
Originally, Greg Berlanti was developing a Green Lantern show starring Finn Wittrock for HBO Max. Although, of course, things change at DC, and as Berlanti exited, the show is now Lanterns, a show about two members of the Green Lanterns corps. Hal Jordan and John Stewart. Both Safran and Gunn touted the show as one of their most important shows, calling it "very much in the vein of True Detective," as Jordan and Stewart investigate a mystery that ties into the DCU's main story.
The Authority
The second big feature film will bring in characters from Wildstorm, a comics imprint folded into DC comics in 1999. A "passion project" of Gunn's, The Authority will revolve around a team of heroes who "think the world is broken and they want to fix it by any means necessary."
Paradise Lost
Taking place before the events of Patty Jenkins's Wonder Woman films comes what Gunn and Safran are calling a Game of Thrones–inspired series set on Themyscira, Diana's birthplace. While there are no official plot details available yet, Gunn hinted that the series may deal with the origins of Themyscira and the political power players of the island. I'm all for bringing back Connie Nelson's Hippolyta and her ass-kicking sister (Robin Wright).
The Brave and the Bold
As the DCU re-introduces its Superman, it'll need an official in-universe Batman, and it won't be Robert Pattinson. The Brave and the Bold, based on comic writer Grant Morrison's run, will introduce another Bruce Wayne and his son Damian Wayne, who will be Robin, who Bruce had no idea existed for eight to ten years of his life. "It's a very strange father-and-son story," said Gunn.
Booster Gold
Safran said of the future HBO Max series, which will feature an obscure character from the DC comics: "It's about a loser from the future who uses basic future technology to come back to today and pretend to be a superhero."
Supergirl: Woman of Tomorrow
A film based on Tom King's 2022 comic run of the same name will feature a "more hard-core" Kara Zor-El, Superman's cousin. While Superman is raised on Earth, Kara spends 14 years of her life on a violent "rock chip off of Krypton." Gunn calls Woman of Tomorrow a "science-fiction epic."
Swamp Thing
The last DCU project announced in Gunn and Safran's part one of their Chapter 1 plan is described as "a very dark horror story" surrounding the origins of Swamp Thing.