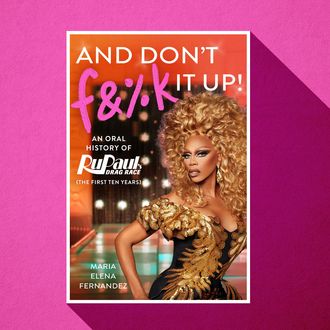 Time for the reading challenge.
Photo-Illustration: Vulture
Readers, start your engines, and may the best oral history (wipes mouth) win! A new book chronicling the rise of RuPaul's Drag Race is coming out this Pride Month. Arriving in bookstores June 6, And Don't F&%K It Up: An Oral History of RuPaul's Drag Race (the First Ten Years), by Maria Elena Fernandez in collaboration with World of Wonder, traces Drag Race's humble beginnings from climbing the ladder (specifically the pink one that used to hold up their TV) all the way to mainstream, Emmy-winning success through interviews with the creators of the show, the queens, the crew, the judges, and some famous fans. "Before Drag Race premiered, I was drawn to the artistry and entertainment value of drag but I had never considered the bravery behind the transformation process or spent much time thinking about the person behind the makeup and wig," Fernandez said in a statement. "Drag Race opened me up and made me a better human, so when I was approached about working on an oral history of this cultural juggernaut's first decade, the answer was a resounding Yas, Queen! Come for the tea, stay for the shade." The book will discuss moments from Ongina's HIV reveal all the way to the equally emotional (if in the opposite direction) Asia O'Hara butterfly fiasco. So glue on a wig and get preordering. Because reading is what? Fundamental.