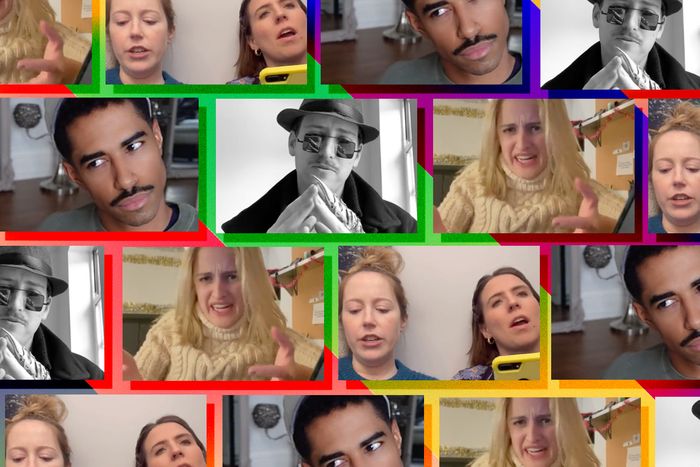 Photo-Illustration: Vulture; Photos: @deadeyebrakeman/Twitter, @kimquindlen/Twitter, @JackBensinger/Twitter, Bomanizer/TikTok
Each month, many funny videos are posted to every corner of the internet — from Twitter and Instagram to Vimeo and sometimes other weird places we'll have trouble embedding. Because you're busy living your life, you might miss some of these funny videos and feel left out when others bring them up in conversation. Well, worry not! We're here to make sure you're not listening in on conversations but leading them … as long as those conversations are about funny internet videos. Here, our favorite comedy shorts of the month.
"Day in My Life," by Kylie Brakeman
Taking the well-paying existential nightmare that is the bullshit start-up to another level altogether, this TikTok parody from The Tonight Show's Kylie Brakeman sees her counting all of the individual pieces of pasta in New York City. Not to spoil anything, but she's not getting paid nearly enough, and they might want to think about hiring some temps to help her out.
"Daylight Savings But It's the Kardashians," by Boman Martinez-Reid
First Boman Martinez-Reid (known in social-media circles as "Bomanizer") showed us what it would sound like if the Kardashians turned having a migraine into a plot point (actually surprised this hasn't happened on the show). And now he shows us an advanced simulation of what a discussion on daylight saving time might look like if wrapped in a lilting little Kardashian bow. Uncanny.
"He Got the Wordle in One," by Donald Chang
A new father has bigger fish to fry than celebrating the birth of his child in this live-character monologue written and performed by Donald Chang at New York's Union Hall. He got the Wordle in one guess today, and he is very ready to explain how that makes him intellectually superior to you. By the time the monologue reaches screaming-narcissistic-supervillain highs, you will be especially unlikely to guess what the Wordle word actually was.
"How You and Your Best Friend Talk to Each Other: Christmas Edition," by Kim Quinlan and Claire McFadden
The overlapping dialogue improvised here by Kim Quinlan and Claire McFadden is dizzying to behold yet immediately recognizable to anyone who has anyone they share a wavelength with so intensely that they can have distinct conversations that also sound like person talking with themselves. It's deeply impressive stuff. Do Easter next! Any excuse for more of this!
"Message for My Loud Neighbors," by Jack Bensinger
Jack Bensinger issues a threatening ultimatum to his noisy neighbors that involves an ace up his sleeve that he absolutely can't wait to whip out. But he might not have the friends in court that he thinks he has. Bensinger has the appearance and demeanor of an amateur "edgy" magician, making it equally pathetic and satisfying when his house of cards comes down.
"Old Dude Remembers the Glory Days of NYC Basketball," by J.P. McDade
This one isn't actually a joke. Take it from us, who have relatives in their 60s and 70s who played basketball in old New York City youth leagues. This is verbatim how they speak about their time on the concrete. Part demented talent scout, part Hallmark movie screenwriter. Again, not comedy here. Just historical nonfiction. Take notes.
"POV: Your Dad Walks Out of a Restaurant That Says There's a Wait But Has Tables Visibly Available," Jared Freid
Boca Raton, Florida. Holiday season 2022. Such was the setting of what could be the most talked-about walkout in our American history. We're speaking, of course, about the night comedian Jared Freid's dad stormed out of a restaurant because the establishment had tables visibly available but wouldn't seat him and his family. We can all relate, and let us say this: He was justified in his frustration. We're also glad they finally landed at a spot with some decent shawarma (or so we hope). Thanks to Mr. Freid for his bravery, and for Jared for sharing it with the world.
"Secret Congressional Codenames Revealed," by Bad Lip Reading
Not many are strangers to the genius that is the Bad Lip Reading franchise at this point. Still, this recent roll call of U.S. House Representatives made us belly laugh pretty darn good. Who couldn't use that?
"This Trend Is Too Much," by Rajat Suresh
We loved Rajat Suresh's parody of prank-confrontational TikTok trends where the cameraperson informs an unwitting friend or relative (often, but not always, Suresh himself) that they have been pronounced dead. If it's in the news, that means it happened, and you should be very scared about what it means for you, the dead person.
"Travel Hack!!!" by Eli Newell
Comedian Eli Newell obviously spends quite a bit of time traveling the globe. And now he's kind enough to share an oft-ignored travel hack: drug smuggling. Sure, a condom full of heroin may explode inside your rectum. Or you could get two nights at a Hilton property and an economy round trip totally gratis. The only thing illegal would be turning down a deal like that. Also the drug smuggling.
Like what you saw? Want to be on this monthly roundup? Show us your stuff! 
Luke Kelly-Clyne is a co-head of HartBeat Independent and a watcher of many web videos. Send him yours at @LKellyClyne.
Graham Techler has contributed writing to the New Yorker and McSweeney's Internet Tendency. Send him your videos at @gr8h8m_t3chl3r.