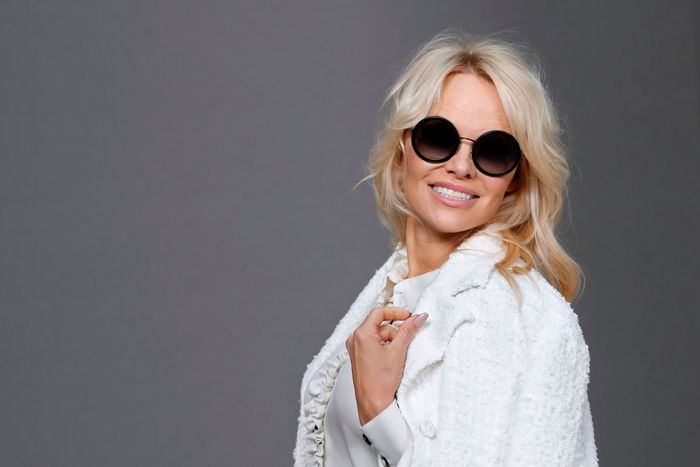 Photo: Francois Guillot/AFP via Getty Images
The bullet points that make up Pamela Anderson's life are a matter of public record. For the last reigning blonde bombshell, though, she finds it hard to tell her story not over the fear of redundancy, but because she thinks people are so tricky that any attempt to capture them will always be insufficient. "I didn't think I'd want to spend this part of my life explaining myself to people," she writes in her new memoir, Love, Pamela. "It would take a lifetime to understand another person." But she tries to explain anyway. Her latest autobiography since Pandemonium (1997) and Raw (2015) isn't a memoir stuffed with fodder for "Page Six" headlines. The memoir, alongside her Netflix documentary Pamela, a Love Story, is more like an addendum to the facts already in the public consciousness.
Combining prose and free-verse poetry to weave a chronological tale that begins at birth and arrives at the present, Anderson offers 250 dizzying pages of straightforward recollections. A lot of time is spent reflecting on her artistic and intellectual inspirations — Jungian psychoanalysts, James Baldwin, Che Guevara, Virginia Woolf, Diego Rivera, Angela Davis, Anaïs Nin, the Beat poets, Ed Ruscha, Rilke, John Lautner, and more — in which she found joy early in life, partially as a hobby, but even more so and partially as a shield. Traumatic events, like a babysitter's sexual violence, are told at an arm's length. Relationships with men, from abusive high-school boyfriends to fun Los Angeles dalliances, read as matter-of-fact, though often dangerous, happenstances. Encounters with famous people are run-of-the-mill. To her, these are just the plain facts of her carefree life. To us, they add intriguing details to stories that have been covered for the past three decades.
Here's every story that stuck out.
She faced abuse before Hollywood
"At a young age, I learned that people are mostly awful," Anderson writes early on, after a description of her humble childhood in Ladysmith, a small town on Vancouver Island. "Babysitters even worse. That's what happens when you are inappropriately messed with as a child. In my case, it was a young female babysitter who sexualized me very early, forcing me to play weird games on her body, like 'car.'" The accompanying poem is told from the perspective of her kid self: "with endless imagination … creating my own world as fast as I could."
According to the Baywatch star, the babysitter died in a car accident soon after she tried to say Santa Claus wouldn't visit. Later on, a high-school boyfriend and gang member named Billy abused Anderson with his friends. On-again, off-again boyfriend Jack attempted to run her over with his car. After Anderson was shot into the local Vancouver limelight at a sports game and Playboy came calling, her first Vancouver fiancé threw a silverware tray at her head.
Mario Van Peebles tried to convince her to move out of Jon Peters's house in the '90s
Anderson briefly dated the actor and son of director Melvin Van Peebles when she first arrived in L.A. (Their relationship seemed blissful: "We made love for the first time in a field of long, soft grasses, as horses ran by dangerously close, almost trampling us.") At the time, the new Hollywood transplant lived under the patronage of wealthy producer Jon Peters, who housed her in his Bel-Air mansion and showered her with exorbitant gifts. When Mario Van Peebles found out she was living there, he convinced her to leave the arrangement and that it could become dangerous. "'I think you need to get your things and get out of here,'" she writes. "'Take only what you brought. There's more to this story, and I'm afraid you won't be able to get out of this if you wait too long.'" The last straw came when her mother came to visit and Peters kept going on about how they were in love. Though she moved out soon after, Anderson ended up married to Peters three decades later, though it was never made legal.
She met Jack Nicholson while he was having a threesome in a Playboy Mansion bathroom
"Mr. Nicholson had two beautiful women with him. They were all giggling and kissing up against the wall, sliding all over each other. I walked by to use the mirror, bending over the sink to fix my lip gloss. Trying not to look, but I couldn't help myself and caught his eye in the reflection. I guess that got him to the finish line, because he made a funny noise, smiled, and said, 'Thanks, dear.'" According to Anderson, Nicholson tells this story often.
Tim Allen once flashed her, allegedly
On the set of Home Improvement: "On the first day of filming, I walked out of my dressing room, and Tim was in the hallway in his robe. He opened his robe and flashed me quickly — completely naked underneath. He said it was only fair, because he had seen me naked. Now we're even." Allen denied the claim.
She said plastic surgery was a "vicious cycle"
Her early career decision of surgically altering her breasts wasn't worth it for her. "How could I expect anyone to love me enough to see through it all?," she asks. "Flashing back to the gym at the Playboy Mansion, where I agreed to amplify my chest like everyone else, then endured years of sordid attention I wasn't ready for. Then came complications, the unexpected injuries that led to more surgery, a vicious cycle. I was fine the way I was."
Stress led her to down vodka and swallow a bottle of Advil
After her husband Tommy Lee "rammed his car into the makeup trailer, punched the cabinets out in the makeup room," and threw Anderson out of the car on the set of Baywatch, she was exhausted. "I was confused, sad, tired, not in my right mind," she writes. "I had gotten into the bathtub the night before and tried to swallow a bottle of Advil with vodka, sinking slowly under the water. But luckily, I couldn't stand the taste of hard alcohol and the nausea forced me out of the tub. I threw up everything, all over the stone floor, and then fell asleep in a pool of Advil-red vomit." She was also overworked, taking "speedy diet pills" to stay awake while filming the show and Barb Wire simultaneously.
Kid Rock had beef with David LaChapelle
Kid Rock did not like his wife hanging out with her gay best friend. She met her ex-husband at a charity concert she attended with partner in crime and photographer David LaChapelle. Rock — whose real name is Robert James Ritchie and whom Anderson calls "Bob" in the memoir — was jealous of their friendship, especially after tabloid photos of Anderson sitting on LaChapelle's lap at the beach wedding circulated. "Bob didn't appreciate my close relationship with David," she writes. "He also didn't believe David was really gay. David and I have always been very close, soulmates in some ways. I'd found someone who accepted me, full stop, and nurtured and instigated the artistic side of me like no one else. We'd watch documentaries and talk about art. When we walked in anywhere, people knew it was about to get wild. We'd dance around in our underwear — or less. Hanging from the chandeliers."
She claims she found a crack pipe belonging to ex-husband Rick Salomon in a Christmas tree
During her Vegas sojourn where she starred in a Hans Klok magic show, she married the poker player for the first time in 2007. "A few months later, my assistant found what he thought was a crack pipe in the Christmas tree," she writes. "People had warned me that Rick was a serious addict, but I'd never seen that side of him. It seemed like an exaggeration. Rick insists to this day that my assistant planted the pipe in the tree to break us up." They annulled the marriage after the incident. They later reconciled — marrying again in 2014 and divorcing in 2015.
She watched Obama's inauguration with Vivienne Westwood and Juergen Teller from her Malibu trailer
While her home was under construction, Anderson lived with her two boys — Brandon and Dylan, now 26 and 25 — in a Paradise Cove trailer. The late Westwood, her husband Andreas Kronthaler, and Teller watched Obama's inauguration from a blow-up mattress in 2009. Teller later took photos of Anderson skateboarding in a pink couture wedding dress and reading her copy of a book by Plato.
And talked politics, and then some, with Julian Assange
Vivienne Westwood introduced her to Assange. They talked about access to education, government corruption, and the environment with the Wikileaks founder as friends. They also got "frisky" once. She used a commercial shoot in Australia as an excuse to visit Assange's home country and lobby with members of Parliament on his behalf. She even tried to arrange a meeting with then–Prime Minister Scott Morrison. He agreed to the meeting, but his public comment about wanting to bring his buddies along didn't go over well. Neither did the fact that advocating for Assange might piss off the United States. She never got an audience with Morrison after all.
While down under, Anderson met Assange's mother, who told her to stop being hot online if she wanted to be taken seriously. "She said she'd spoken to Julian about me, and she knew I deserved a lot more respect than people gave me, especially in the media," Anderson writes. "She told me to stop posting sexy photos on social media, to post authentic ones, ones with my sons or pets, with less makeup, not retouched. She thought that it would help me become a stronger and more serious activist, because my intelligence was being overshadowed." Though Anderson took her notes under "serious consideration," she doesn't think being a bombshell and an intellectual are mutually exclusive. "I am who I am, which is a combination of all I know, and I've always believed that striving to be a sensual person, or being sexy, should not conflict with intelligence."