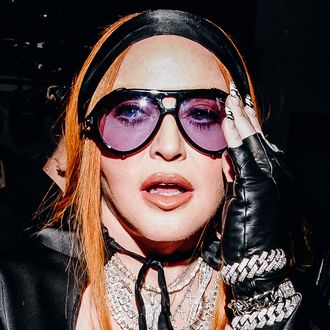 Consider it a dare.
Photo: Nina Westervelt/WWD via Getty Images
The mayor of a city in northern France is asking Madonna to open her (he)art collection. That's because the singer owns a painting that may have been lost since World War I, according to Brigitte Fouré, mayor of Amiens. The painting — "Diana and Endymion," by Jérôme-Martin Langlois — was completed in 1822, commissioned by Louis XVIII for Versailles. The Musée des Beaux-Arts in Amiens showed the painting beginning in 1878, but it was thought that it had been destroyed when it disappeared after the city was bombed in 1918. But the painting may have lived to tell. Fast-forward to New York in 1989, when Madonna bought either the painting or a copy for $1.3 million at auction, according to Le Figaro. (Her painting is missing three centimeters, about an inch, meaning the signature and date could've been removed.)
"Obviously, we don't dispute in any way the legal acquisition that you made of this work," said Fouré (in French) in a video message to Madonna. She is now asking Madonna to lend Amiens the painting as part of the city's bid for 2028 European Capital of Culture. (Madonna won't need the painting anytime soon as she preps for a world tour this summer.) "This is a request I would like to make to you, a wish at the beginning of the year," Fouré said. Like a prayer, in other words, that Madonna will take the painting there.