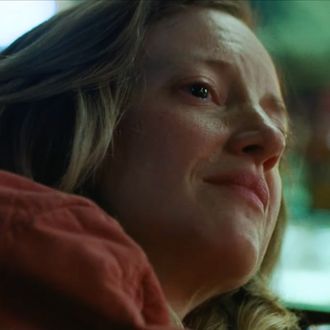 To Leslie.
Photo: Momentum Pictures
The Academy of Motion Picture Arts and Sciences has another statement about Oscar nominations campaigning this year. And no, it's not about Andrea Riseborough. But like … yeah, it is. Per Belloni, Academy CEO Bill Kramer issued a statement on January 31 of the results of the investigation on awards campaigning. He stated that Riseborough would keep her nomination and reminded Academy members to cast their votes "based solely on the artistic and technical merits" of the nominees. They also asked members to "refrain from publicly discussing [their] votes." It is unclear if anything else will happen to the To Leslie team beyond the subtweet-like statements.
Last week, the Academy announced its investigation on the Oscar campaigns. "It is the Academy's goal to ensure that the Awards competition is conducted in a fair and ethical manner, and we are committed to ensuring an inclusive awards process," said the Academy in its statement released January 27, according to The Hollywood Reporter. "We are conducting a review of the campaign procedures around this year's nominees to ensure that no guidelines were violated, and to inform us whether changes to the guidelines may be needed in a new era of social media and digital communication. We have confidence in the integrity of our nomination and voting procedures, and support genuine grassroots campaigns for outstanding performances."
Without mentioning the star of To Leslie, the statement is pretty clearly alluding to conversations around Riseborough's quick campaign to accrue a nomination for Best Actress on January 24, despite not being nominated for major precursors like SAG and BAFTA. And she likely got the nomination because a whole slew of Hollywood names campaigned for her at the last minute, many at the prompting of actress Mary McCormack, who is married to the film's director — which may violate Academy bylaws against "lobbying." (In addition, vocal supporter Frances Fisher potentially broke a rule against mentioning the competition by name.) Until nomination day, the other most likely nominees included Viola Davis (The Woman King) and Danielle Deadwyler (Till), two Black actresses directed by Black women. Chinonye Chukwu, the director of Till, responded to the apparent snub on Instagram that day. "We live in a world and work in industries that are so aggressively committed to upholding whiteness and perpetuating an unabashed misogyny towards Black women," the director wrote, in part. "And yet."
The whole thing recalls our institutional memory of #OscarsSoWhite. And while everyone's at it, could they look into what happened when Janelle Monáe was in both Hidden Figures and Moonlight in the same year and got nothing? If we're doing favors …
This post has been updated throughout.