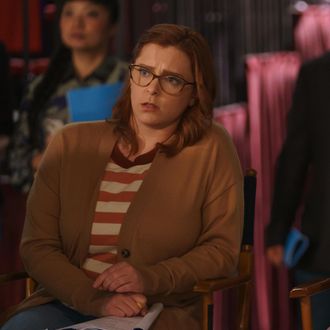 Same, Hannah. Same.
Photo: Michael Desmond/Hulu
Valentine's Day can be rough, especially if you don't have that special someone or streaming service to share it with (and especially with the looming password-sharing shutdown.) While some programs like Yellowjackets and Abbott Elementary seem to have found their long-term sweethearts, others haven't been so lucky. Several shows have been axed by Showtime, Hulu, and FX right before the start of the shortest month of the year. Some were casualties of the Paramount+ and Showtime merger, while others felt almost unprompted. However, heartbreak, no matter the time of year, does not feel good in a place like this. Almost all of the shows have begun their search for a rebound network with pleas from showrunners, fans, and stars alike. "I guess I should have a 'classy' response to Reboot being canceled by Hulu," posted Reboot's Rachel Bloom on Instagram. "I hope this gets another life somewhere else."
Below are five shows that won't be getting a card from Arthur Valentine.
Reboot
Creator Steve Levitan's comedy series for Hulu, Reboot, has unfortunately hit the chopping block. In a statement to Vulture, Levitan stated that he and 20th Century Fox plan to shop the show elsewhere. Starring Keegan-Michael Key, Johnny Knoxville, Rachel Bloom, Calum Worthy, and Krista Marie Yu, the meta series followed a reboot of an early-aughts family sitcom as it tries to adapt to the new age of television.
Kindred
Despite receiving praise for its faithful adaptation, the FX drama based on the novel of the same name by Octavia E. Butler will not move forward with another season. Airing just ten episodes in a binge-drop back in December, the showrunner Branden Jacobs-Jenkins envisioned a multiseason show and has plans to shop Kindred.
American Gigolo
After only one season, American Gigolo, starring Jon Bernthal, has been canceled amid the merger news. According to Variety, the show has been removed from the streaming service and is being shopped elsewhere.
Let the Right One In
Another causality from the Paramount+ and Showtime merger, Let the Right One In has been canceled after one season and will also be removed from Showtime. The horror drama was a reimagining of the 2008 film of the same name (also an adaptation of the John Ajvide Lindqvist novel.)
Three Women
Bad news comes in threes, as Showtime's Three Women was axed before the show even aired. An adaptation of Lisa Taddeo's nonfiction book of the same name, the unaired show stars Shailene Woodley as Gia (a fictional version of Taddeo) who follows three women (DeWanda Wise as Sloane, Betty Gilpin as Lina, and Gabrielle Creevy as Maggie) on their journey through love and relationships. The series is reportedly being shopped to other networks.