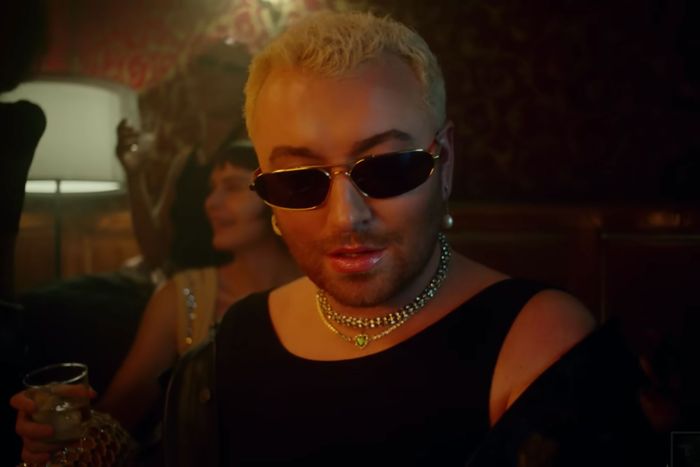 "Latch" was a landmine, an explosion no one saw coming, a perfect pop smash from an unknown artist. The singer, pompadoured London dynamo Sam Smith, who used the sprightly beat from the house music duo Disclosure to model a preternatural ease skating across two different octaves, didn't appear to be all that invested in the dance of being seen and perceived in the public eye. In the Lonely Hour, Smith's 2014 debut album, was an elaborate performance of meekness from the concept — it's about a nagging unrequited crush — to the presentation. The video for the smoldering torch song "Leave Your Lover" made the gingerly implication that the love interest was a man as it tracked a trio of friends through their evening endeavors, observing stolen moments of affection between the singer and the handsome, outgoing buddy whose effusive and very physical friendships leave hurt feelings and unanswered questions in their wake. Smith spoke more candidly about sex and romance in interviews, coming out as gay and ruffling feathers for trashing dating apps and seeming to advise young queer fans to seek acceptance by making their experiences less of a public sticking point. A New York Times chat got to the heart of the matter: "I wanted my voice to be Story No. 1 when you Googled my name. I didn't want it to be 'Sam Smith, the gay singer.' I wanted it to be 'Sam Smith, the singer who happens to be gay.'"
Success had been elusive prior to the Disclosure hit, a years-long trail of promising leads that went nowhere. Nobody seemed to know what to do with the voice. (The awkward, scrappy pre-fame recordings on the Sam Smith Diva Boy collection tell that story.) It eluded the listener's handle on genre and gender; Disclosure's Guy Lawrence thought he'd heard a Black woman singing in the demo that landed Smith the spot on "Latch." These were not the simpler times the current wave of nostalgia for the late 2000s implies, not if you were living outside the cookie-cutter ideas about sexuality and gender expression that prevailed in that era. (It took many years of dogged debates and advocacy to get American Democratic leadership onboard with same-sex marriage; David Cameron enraged Tories by forcing a discourse on the issue that the party couldn't derail.) The pressure Smith felt to fit in and make music that appealed to everyone was a side effect of toiling toward a career in pop music while press hounded Britney Spears, and gay rumors trailed Robbie Williams to the extent that he eventually named his 2013 big-band album Swings Both Ways. The work it's taken to shake free from the obligation to coddle the audience has been the story of Smith's music and public presence since coming out as nonbinary in 2019. Now, they write songs about seeking unconditional love and bolstering self-esteem instead of jams about clinging to people who may or may not even be aware of their feelings.
Where earlier releases treated the versatility of Sam Smith's instrument and interests like a problem to be solved through careful, streamlining adjustments — Lonely Hour eased off of the dance music sounds on the 2013 Nirvana EP, then 2017's The Thrill of It All offset the slick schmaltz of the debut album with soul and gospel tracks, then 2020's Love Goes split the difference between quiet jams and tasteful electronic bops, making the mistake of relegating "Dancing with a Stranger," "How Do You Sleep?," and "I'm Ready" to bonus tracks — this month's Gloria leans into the artist's musical contradictions and ideological dualities, coming out with the sharpest full length in the batch. The history-making chart-topper "Unholy" summarizes the ideas at Gloria's core. It's unabashedly queer, a duet between a nonbinary star and trans dance-pop artist Kim Petras with a hook — "Mummy don't know Daddy's getting hot at the Body Shop doing something unholy" — that screams "trade." It's also vague enough to fly with people who aren't paying enough attention to grasp the specific implications of Sam Smith crooning about your husband sneaking out without you, and that feels somewhat deliberate coming from this artist.
"Unholy" is a very savvy trick, a simultaneous gentrification of the specific flavor of bubbly trap Nicki Minaj crushed in the early years and a smoothing out of the abrasive sound design and spirited iconoclasm that made the goofies suspicious of SOPHIE early on, back before the late legend's ideas about identity and artifice were properly appreciated as expressions of a trans experience. People still aren't really on that wavelength yet as the international panic about drag and gender-affirming care spins cruelly out of control in this decade. They will latch onto suggestive lyrics next to a booming chorus, flattening a subversive queer/trans Madonna-whore line in sexy TikTok transformation videos that come close to getting it, a response the song feels almost tailor-made to elicit. Is this clever, or is it kinda dark? Two things can be true. (It's unusual for a hyperpop-inspired song to shoot to the top of the American pop charts but less so when you catch a sprinkling of "SexyBack" energy the twentieth time you encounter it.)
What makes "Unholy" and the rest of Gloria work where they do is the euphoria of following Smith through edifying vocal flourishes. Once again tapping their longtime collaborators Jimmy Napes and Stargate for beats, bells, and whistles, Smith gets ample space to emote, filling trap, pop, soul, house, and Afrobeats productions with honeyed melodies. The slow jam "Six Shots" swoops down into the singer's low register as they spend a night in the cups alongside a crush; the Calvin Harris bop "I'm Not Here to Make Friends" flips the old reality TV adage into a whooping declaration of interest in bagging someone cute in the club. The title track makes good on the name it shares with the old church hymn and the Laura Branigan song put to devastating use in Russell T Davies's gay coming-of-age miniseries It's a Sin. It's a warm note of encouragement dressed up as a liturgical tune: "Be yourself so loud tonight they'll hear you from the stars / Sparkling like dynamite, if that is who you are."
The influence of gospel and choral music on this album feels different than on The Thrill of It All, where it looked like a rapid response to an influx of church choirs and samples of religious staples that followed Ye's The Life of Pablo and Chance the Rapper's Coloring Book. The sound of church music feels defiant here, seated so close to the gay themes in the interludes and sex-positive moments elsewhere in the album, like the pregnant pause in Smith's verse on the peppy "Gimme," with features Canadian singer-songwriter Jessie Reyez and Jamaican reggae star Koffee: "Your eyes on my dun dun dun dun / I need you to come… closer." Gloria's major message to the masses is to be who you are and love who you love and mind your words and try not to hate yourself, and it is crucial to have someone out there (particularly someone with a following on TERF Island) articulating all this and dropping RuPaul's Drag Race, Pink Flamingoes, and Paris Is Burning clips into a batch of songs about doing better for ourselves and each other. (It's good to see Smith making a big deal out of a gender-bending wardrobe reveal while performing "Unholy" on Saturday Night Live, opening a flowing hot pink overcoat dress to reveal royal blue slacks and shoes. It's over the top; it's Sam.) It also feels cloyingly direct, conversational to the detriment of its artfulness in some of the same ways the old Sam Smith songs hedged their bets using universal heft.
"Who We Love," a well-intentioned duet with Ed Sheeran about acceptance, reveals its interest in mass appeal when it slides a conciliatory "whether they're here or gone" ahead of "We love who we love," like it's seeking airplay at both weddings and funerals. It undercuts the specificity of Smith's lines about finally feeling free holding hands with a significant other in the street by making sure people who haven't had that experience and didn't gain the right to marriage in their country as adults aren't feeling left out of the picture. Gloria is looking to strike a precarious balance, luxuriating in Sam Smith's truth and sharing lessons they've learned on the road to feeling comfortable in their own body amid public scrutiny of their weight, style, and romantic pursuits while providing carefree party anthems and making sure the singer stays abreast of current trends in pop.
It handles much of this business admirably, though not without its fair share of cringe. "Six Shots" gets carried away playing the sacred against the profane, juxtaposing invites to prayer and anal sex. Some of Gloria's lines feel rote, like you must have heard them before: "I'm not perfect, but I'm worth it." "Lately it's not hurting like it did before." Whenever Gloria starts to get feisty it pulls a punch. "No God" sounds like a scathing rebuke to social-media know-it-alls and pundits who stoke division for a living until the bridge gives the song's subject a break ("I know you're trying to heal the world / You're only trying to prove your worth"), a jarring reversal for a tune with a choir in margins of the chorus singing "Ain't nobody wanna hear your voice" while Sam lays into you: "You're no God, you're no teacher / You're no saint, you're no leader." The ferocity of the delivery sells the message better than the words do.
In spite of the flaws you begin to notice on closer inspection, Gloria feels zesty and joyful. Smith is having a blast crossing musical and cultural wires while making the case for their R&B and gospel chops, and trying to use their platform to be uplifting and informative, even if it occasionally gives the lyrics the humdrum motivational pep of corporate Pride content, and even if the flashes of queer history this album presents in short interludes hit too quickly for fans unfamiliar with footage of the 1970 Christopher Street Gay Liberation Day March to clock. Sam Smith is figuring their shit out, and Gloria maps out how much they've grown as a pop star and public figure since "Latch," suggesting that even better works could be on the way as this artist advances on the path to self-acceptance, but also that heartfelt schmaltz is as much of an integral aspect of this performer's public presentation as any of the jewelry or the vocal gymnastics.