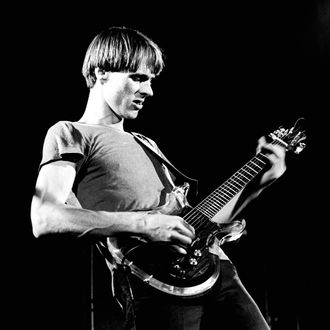 Photo: Gus Stewart/Redferns
The music industry is mourning guitarist and Television frontman Tom Verlaine after his death at age 73. Jesse Paris Smith, the daughter of Verlaine's regular collaborator and former partner Patti Smith, confirmed in a press release that Verlaine died peacefully "after a brief illness" while surrounded by close friends in New York City. Friends and fans alike have since taken to social media to react to the news and honor the innovative musician. Flea tweeted that he and fellow Red Hot Chili Peppers member John Frusciante were "immeasurably" affected by Verlaine's playing style. "Listened to Marquee Moon 1,000 times. And I mean LISTENED, sitting still, lights down low taking it all in," Flea wrote. "Awe and wonder every time. Tom Verlaine is one of the greatest rock musicians ever." On Instagram, Patti Smith shared a black-and-white throwback photo of herself with Verlaine before writing a full tribute in The New Yorker. "There was no one like Tom," she remembered in the memorial. "He possessed the child's gift of transforming a drop of water into a poem that somehow begat music." Below, find fond tributes from Blondie, Billy Idol, Michael Stipe, and more.
This post has been updated throughout.