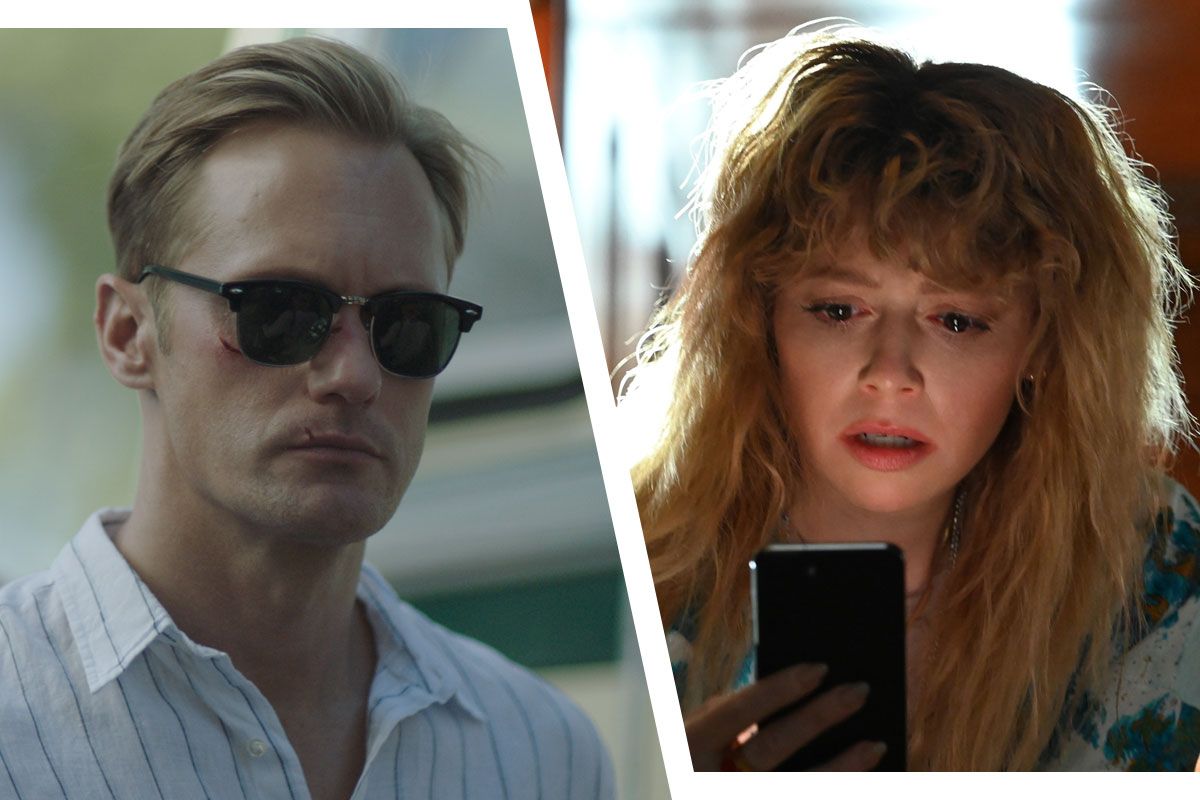 Infinity Pool
;
Poker Face
Photo-Illustration: Vulture. Photo: Neon; Peacock
Alexander Skarsgård, Natasha Lyonne, Harrison Ford, and Eddie Murphy, oh my! It's quite refreshing that the recommendations this week have such a stacked lineup of actors (and crews behind the camera). There's Brandon Cronenberg's new feature fresh off its Sundance premiere, where Skarsgård sported a dog collar and leash; Rian Johnson's first-ever television series (semi-fresh after Glass Onion's debut on Netflix); and another Jennifer Lopez rom-com where she's getting married. Classic! Here are all our picks:
Infinity Pool
The NC-17 cut shown at Sundance won't be the one you see in theaters this weekend (it does have a hard R rating, though), but it's still guaranteed to be a nasty, blood-lusty power trip through hell. If you don't have a clue about what I'm talking about, I'm talking about director Brandon Cronenberg's follow-up film to Possessor. In Infinity Pool, Alexander Skarsgård and Mia Goth star as a down-on-his-luck novelist and a rich fan of his named Gabi, respectively, as the two meet on a lux resort in a fictional country where punishment is doled out to your clone instead of you, if you're rich enough.
Shotgun Wedding
Unfortunately, despite middling to bad reviews, I will give every J.Lo rom-com a chance. I watched Marry Me and had a good time! And that's exactly what I plan to do with Shotgun Wedding, the action comedy that had to replace Armie Hammer with Josh Duhamel (for many reasons). In Shotgun Wedding, J.Lo and Duhamel are our bride and groom who invite their families — including Jennifer Coolidge as the groom's mom — and guests to a destination wedding, only for it to get hijacked by some criminals. The premise sounds outrageous enough for me to, at least, press play.
You People
Helmed by black-ish creator Kenya Barris, You People is a comedy about the blending of two families as Jonah Hill's Ezra and Lauren London's Amira plan to get married. Eddie Murphy and Nia Long star as Amira's parents while Julia Louis-Dreyfus and David Duchovny play Ezra's parents. It may be a been-there-done-that type of plot, but with a great cast like this one, it's worth your time.
How I Met Your Father season two
I, personally, will follow Hilary Duff to the ends of the Earth (a.k.a. watch whatever she's in). We may not have gotten a Lizzie McGuire reboot — I'm still in mourning — but How I Met Your Father will have to do for now because nothing is more pleasing than to watch Duff run around, date, make comical mistakes, and have fun. How I Met Your Father may be cringe most of the time, but from experience, it's a wonderful show to put on while you and your friends hang out and drink wine. For that, I'm thankful for you, Hilary Duff.
Poker Face
Coming from the silver screen to Peacock, Johnson is debuting his murder-of-the-week television series this month, led by Natasha Lyonne. Riffing more on Columbo than Benoit Blanc, Lyonne plays Charlie Cale, a private investigator with the gift of calling out bullshit lies. Each episode will feature new guest stars, from newly minted Oscar nominees Stephanie Hsu and Hong Chau, to Dascha Polanco, Chloë Sevigny, Joseph Gordon-Levitt, and more. The first four episodes are out now, with the other six episodes being released weekly.
Shrinking
Is Shrinking good? Well, while watching it, I didn't love it, but I also never felt the need to turn it off. It has actors I really like, starting with Harrison Ford (who really carries this), along with Jason Segel and Jessica Williams — who is also really good in this! It's not perfect television, and there's some iffy ethics, but I've concluded it's just a nice background watch, which always come in handy.
Read our streaming recommendations from the weekend of January 20. Vulture's next list of weekend-streaming picks goes online Friday, February 3.